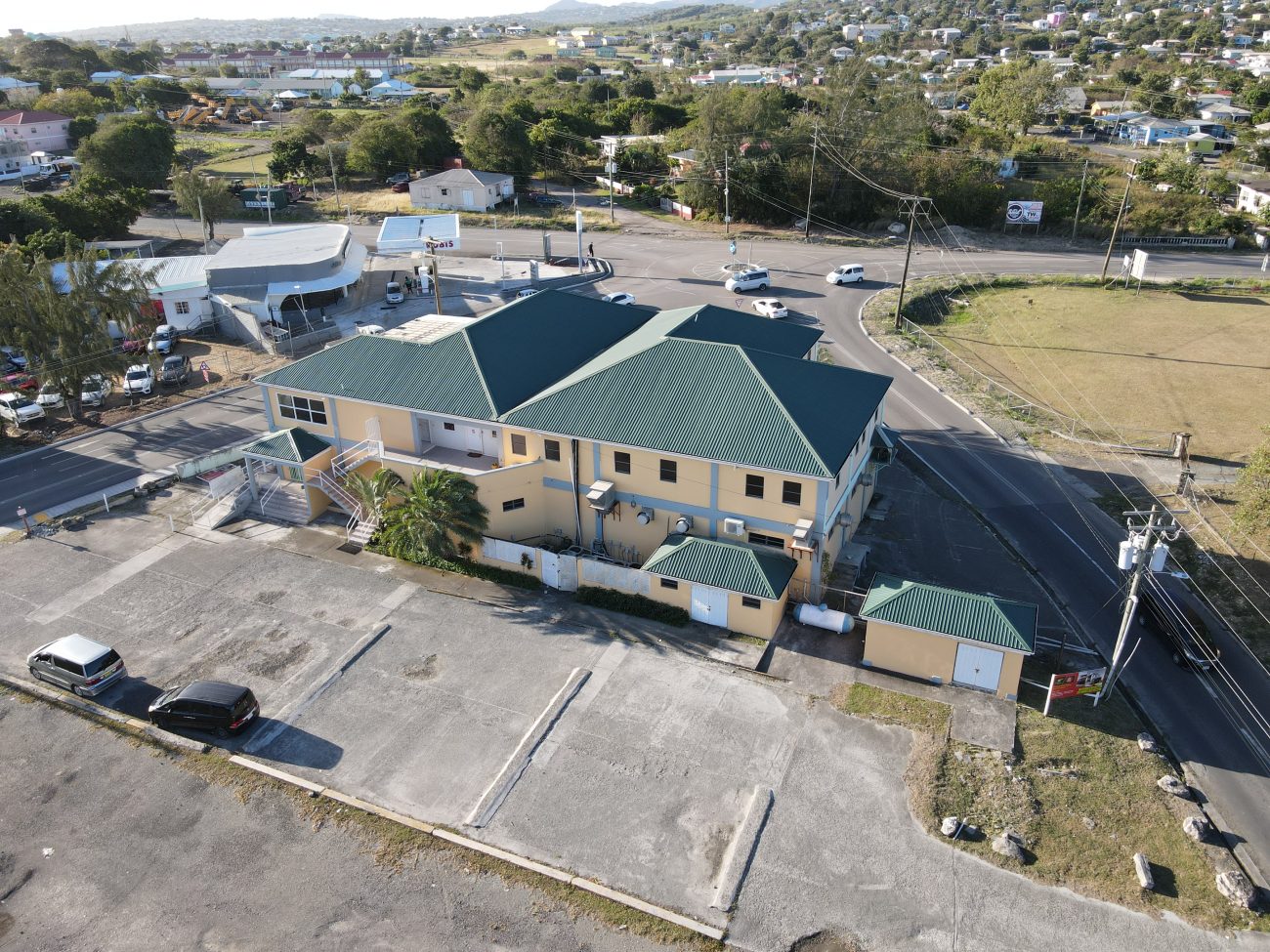 The property is parcel of land and building housing a supermarket and other rental space.
MAIN BUILDING (SUPERMARKET)
The building is a two story masonry and steel frame structure.  The building's lower and upper floorings are  finished with ceramic tiles and masonry plaster. The building's lower floor and upper floor interior walls are finished with masonry plaster, sheet rock and painted. The ceilings of the building are sheet rock and panel drop ceiling, T1-11 plywood and rafters. The exterior walls are finish with masonry plaster, while the windows are aluminum frame picture with store front and push-up full aluminum glass windows. The building has the following rooms and characteristics:
Ground Floor: Mini-Mart, Club, store room and opening area and office
First Floor: Office spaces, Boxing Gym, bathrooms, Bar
Pavement: The property has measured concrete pavement used as walkways and drive way and parking of 6,872.4 sqft. 
Utilities: The area has all of utilities from APUA and waste water system is septic tanks and drain fields. 
LAND
Registration: The legal description of the land is Cassada Gardens and New Winthropes; Block # 42 1992B, Parcel # 259 
Size: The land has an area of; parcel 15,246 sqft 
Location: The land is located in the commercial development south of Ace Enterprises Service Station. The property is located 2.25 miles from St. John's, and 1.0 miles from V.C. Bird International Airport. The area is a commercial development that has all of the infrastructures in place. The building density is approximately 40%. The neighborhood is commercial scale. The area has a mixture of residential houses and commercial buildings. The area has all of the Infrastructures such as paved roads, electricity, telephone and water services. The area has no adverse influences. Elementary School are located within 0.2 miles; Secondary Schools are located within 0.45 miles and shopping facilities are located within 2 3⁄4 miles from the subject parcel. 
Boundaries: The property is bounded by a main road to the east, west, and south. Parcel # 374 and #401 located to the north. The parking lot utilized does not form part of the auction property – it is owned by a different party.
________________________
Starting Bid: xcd$4,285,800.00
LAST AUCTION DATE on Tuesday 10th May @ 4 PM
Call or WhatsApp (268) 464-2263 0r (268) 764- 2263 to arrange a viewing and to request further details. You can also email info@acme-realestate.com and linisa@acme-realestate.com.
Property Features
Offices
Land is 0.35 acre
Floor Area is 15,097 sqft
Property Location