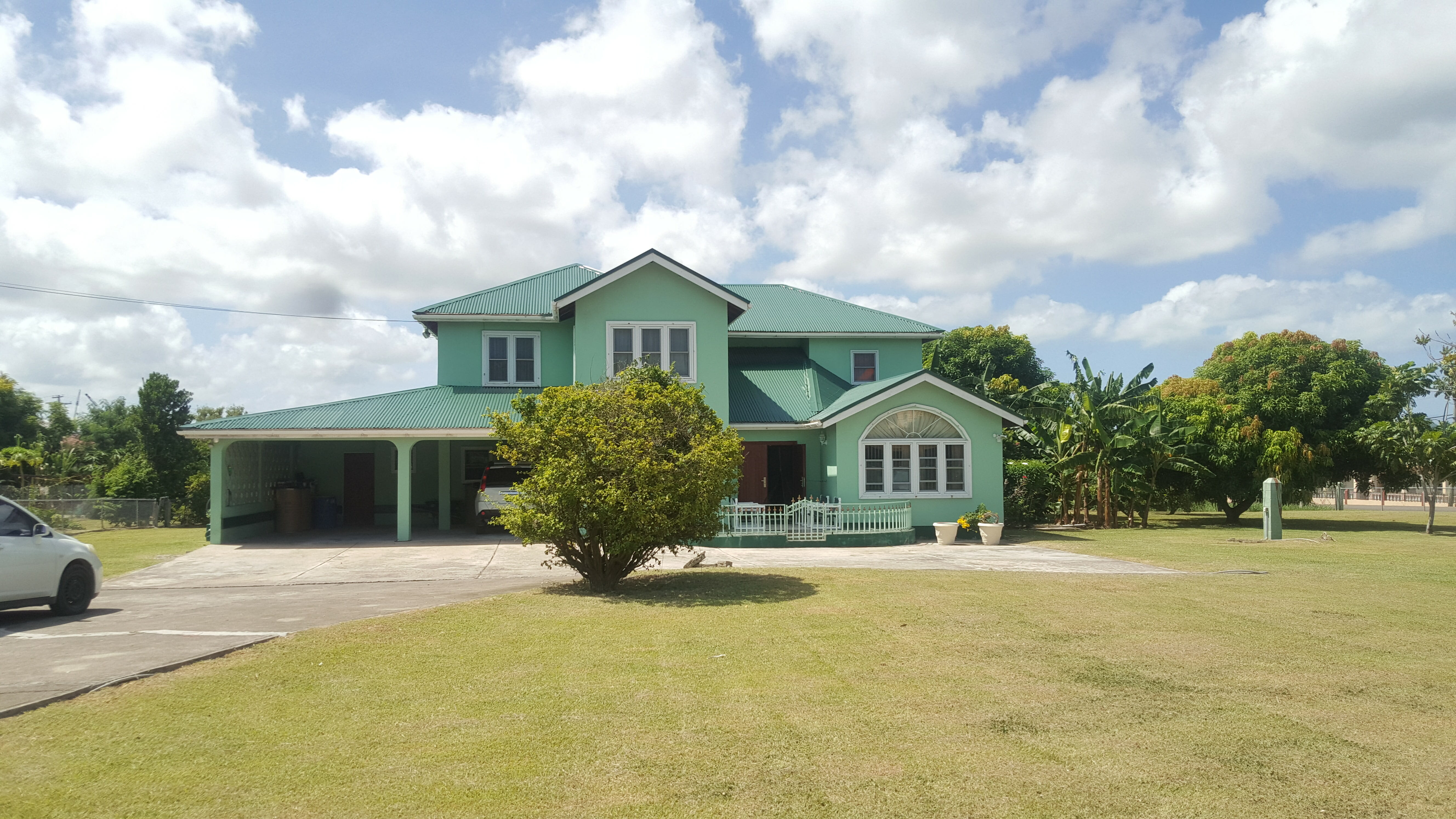 Sitting on 26,136  sq ft (0.60 acre) of land is this stunning mint green two-storey home. The residential structure is built over two levels and measures approximately 5,567 sq ft.
The lower level (ground floor) is made up of one bedroom, one and a half bathrooms, living, dining and a family room, kitchen and two patios. The windows on this level (ground floor) are fitted with burglar bars.
There are two interconnected cisterns with a capacity of approximately 8,300 gallons, each equipped with a pumping system below the floor of the patio and carport. There are also two 500 gallon water tanks.
The upper level includes three bedrooms, two bathrooms, an office and a balcony. The master bedroom has it's own bathroom which boast a Jacuzzi and soak tub, a walk-in closet and a balcony with views of the city and hills.
The structure is of reinforced concrete and masonry construction. The footings, floors, columns and beams are of reinforced concrete and the walls are of masonry. The roof consists of galvanized sheeting on timber decking rafters. The walls of the kitchen, bathrooms and laundry room are partially finished with ceramic tiles and the remaining sections of walls are finished with cement plaster and paint. The floors are finished with ceramic tiles.
The dog kennel is single storied with a gross floor area of approximately 110 sq ft.
There is a 5 kva generator with an automatic switching gear housed in the noise outed room gross floor area of approximately 81 sq ft.
ASKING PRICE: XCD $2,043,500.00 (FULLY FURNISHED)
Call or WhatsApp Will at 268-764-2263, to arrange a viewing and for further information. Email: william@acme-realestate.com
Living Room

Living Room

Living Room

Dining Room

Dining Room

Kitchen

Kitchen

Kitchen

Kitchen

Eating Area

Family Room

Entrance to Laundry Room

Laundry Room

Half Bath

Half Bath

Half Bath

Hall way storage closet

Office

Office

Office

Office

Office

Treadmill

Master Bedroom

Master Bedroom

Walk-in closet- Master Bedroom

Walk-in closet- Master Bedroom

Walk-in closet- Master Bedroom

Walk-in closet- Master Bedroom

Master Bathroom

Master Bathroom

Master Bathroom

Master Bathroom

Master Bathroom

Master Bathroom

Jacuzzi Tub

Master Bathroom

Master Bedroom Balcony

View From Master Bedroom Balcony

View From Master Bedroom Balcony

Dog Kennel

Steffun Avenue – with partial ocean view
Property Features
House
4 bed
3.5 bath
Built 1996
2 Parking Spaces
Land is 1 acre
Floor Area is 5,567 square
4 Toilet
2 Carport
Secure Parking
Dishwasher
Balcony
Fully Fenced
Property Location
Listing Agent